Click here for FoE Summer Event 2022 questlines and tips
On 3rd of August Forge of Empire Summer event starts. It will end on 24th of August.
This year Greva's Summer Casino goes for a Polynesian theme: sun, sand and crystal clear water. Here is main FoE Summer event window:
How to get casino tickets
Summer Event Prizes
FoE Summer event questline and tasks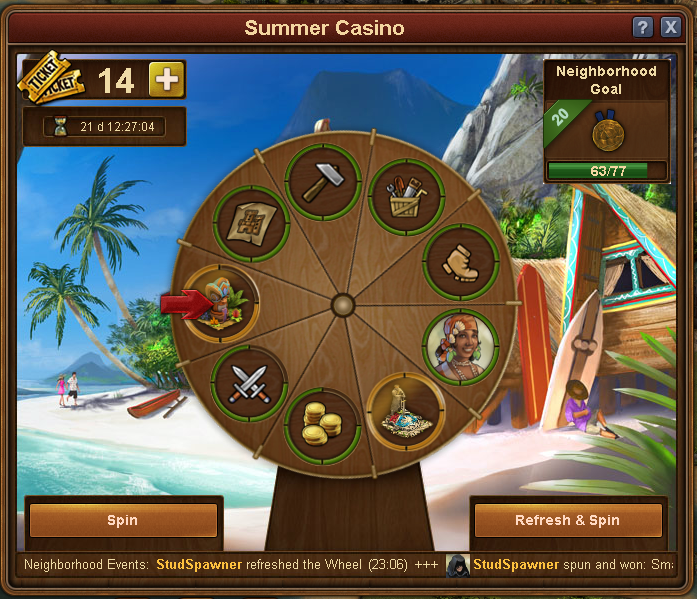 Spin the Wheel of Fortune to win prizes. 4 items of each prize is available. But Wheel of Fortune is shared with your neighbors so be quick then you'll see a prize you want to get. Or press Refresh & Spin button in case you don't see any valuable prizes available. Prizes on the Wheel of Fortune are random, so you never know what kind of prizes you'll see there after refresh.
Tickets
To spin the Wheel of Fortune in the Summer Casino you need tickets. There are several ways to get tickets:
get tickets for completing quests. Player will be get 1 or 2 tickets depending on quest.
after completing quest will be additional ticket available somewhere around your town. See the picture bellow
each day 1 ticket will be hidden in the wilderness for logging into the game.
1-3 casino tickets can be won by spinning Wheel of Fortune.
So this year you can get more tickets and it means more prizes.
Prizes
In addition to some older event items, there are brand new rewards. Special summer avatars and new buildings:
Luau – Production building
Fishing Hut – Residential building
Pole House – Residential building
Tiki Totem – Decoration
Most valuable prizes as always are Renovation Kit, Shrine of Knowledge, Watchfire.
Here is a list of available prizes in alphabetic order during Summer event:
1 random blueprint
1 casino ticket
2 Random Blueprints
3 casino tickets
Bazaar
Beach Bar
Caravansary
Champion
Champion's retreat
Color Guard
Cultural building
Fast unit
Fishing hut
Fishing Hut
Flower Arbor
Heavy unit
Large medals package
Large supplies package
Large coins package
Lawlerence Portrait
Light unit
Luau
Palm Tree
Phoenix Statue
Pole House
Portrait Amelia
Portrait Bettie
Portrait Delilah
Portrait Jane
Portrait Jones
Portrait Kekoa
Portrait Mata
Portrait Nefertiti
Portrait Nelson
Portrait Sir David
Portrait Wahine
Residential building
Rogue
Sandcastle
Shrine of Awe
Shrine of Inspiration
Small coins package
Small supplies package
Small medals package
The queen
Tiki Totem
Victory Tower
Watchfire
Well of Welcome
Wishing Well
Ziggurat
Questline
Here is full list of Summer Event quests. Player gets 1 casino ticket for each completed task. With couple exceptions when player is rewarded with 2 tickets. Additionally there are some extra quests if player advances very quickly through the questline. It is a chance to get an extra ticket.
| Quest # | Quest line, tasks and tips |
| --- | --- |
| 1 | The Casino is Open. Summer is here, and that means my Summer Casino is open for business! Spin the Wheel of Fortune to win amazing prizes. All you need to play are tickets – earn them by doing tasks for me! |
| Gather 2000 coins | |
| Gather 2000 supplies | |
| 2 | Ticket to Paradise. I decided to go with a Polynesian them for my Summer Casino this year. It looks like paradise, doesn't it? Why don't you go and spread the word about it. |
| Motivate or polish 30 buildings | |
| 3 | Ticket to a Good Time. Well done! So many people are showing up to the casino already! We should make sure all these visitors have a good time. A good time for them, means more money for me! |
| Gain some population 40 | |
| Gain some happiness 30 | |
| 4 | Summer Entertainment. I want to try something new this year. All the best casinos have entertainment to keep patrons entertained and coming back for more. help me look for some talented performers for my casino will you? |
| Finish a 24 hour production 2 times | Special buildings like Mad Scientist's Lab or Bazaar also counts as production buildings |
| 5 | Laugh track. Greva is looking for entertainers to perform at her casino? Well, look no further! Do you mind if I practice my comedy routine with you before I audition with Greva? |
| Gather 30 goods | Buy goods on the market |
| Spend 12 Forge points | |
| 6 | Law of Attraction. I think Rinbin was trying to tell jokes. Finding talented entertainers may be harder than I thought. Until I can find the right performers, we should make the casino look more attractive. You can take care of that, can't you? |
| Build 3 decorations from your age or 4 from the previous age | |
| | Extra Ticket. The patronage at my Summer Casino is steadily increasing, but I think we can get even more visitors to come. Why don't you gather some ideas on how to do this |
| Finish a 24-hour production 3 times | Always have production buildings producing 24-hour production |
| 7 | Performance Challenge. Greva is looking for entertainers is she? This sounds like a fun challenge to create a scientifically perfect performance! I will start my research at the casino. |
| Research a technology or spend 20 Forge Points | |
| 8 | Ticket to Fun. Greva's casino was so much fun that I forgot I was there to do research. I suppose I will have to go back again! |
| Buy 7 Forge Points | |
| Gather 40 goods | Buy goods on the market |
| 9 | Talent Search. Mandubar's performance was very over the top. This is feeling hopeless. How will I find the talented entertainers I want for my casino? maybe I should look beyond the city for the talent I need. |
| Scout a province | |
| 10 | Discipline is the Ticket. Is playing games at the casino not entertaining enough? These casino patrons need more discipline. |
| Finish each of the production options once | |
| 11 | Drill Performance. The casino patrons need to see what discipline means. If they see my troops'drill routine, they might get the idea. |
| Recruit 6 units from your current age or 8 units from the previous age | |
| 12 | Formed and Ready. The troops are ready to perform their drill routine for Greva. No need to wish them luck. Their hard work will yield favorable results. |
| Have 10 Units | |
| Spend 14 Forge Points | |
| 13 | Decisions, Decisions. I just watched an impressive drill routine by General Grivus' troops, but I'm not sure if it fits the casino setting. While I decide, there's more work to be done around the casino. |
| Buy 5 Forge Points | |
| Gather 3000 supplies | |
| 14 | Summer Sparkle. this Polynesian theme is absolutely lush! All it needs is a spectacular show with flashy costumes and lights. Maybe going to the casino will inspire me. |
| Acquire a sector without fighting | |
| 15 | Tropical Backdrop. I'm building a fabulous tropical stage setting which will be the backdrop for my interpretive dance. I could use a little help building it. Could you lend me a hand? |
| Finish a 24-hour production 4 times | |
| 16 | Stage Fright. The set is finished, but now I'm nervous about my performance. I will visit the casino to play a few games. Hopefully that will calm my nerves. |
| Spend 16 Forge Points | |
| 17 | Room for Interpretation. Fernikus built the most spectacular stage setting! His performance on the other hand…I'm not sure how to interpret it. Let's keep searching for suitable performers, shall we? |
| Infiltrate 5 sectors | |
| 18 | Tickets for Inspiration. It might be time to take things into my own hands. Help me gather some ideas about the most popular entertainers. We can find some inspiration from their performances, surely. |
| Gain control over a province. | |
| 19 | Variety is the Ticket. We need a variety show! I have a variety or performance to choose from. If I can combine all the performances in just the right way, I could produce the most entertaining show yet! Gather all the performers together for me won't you? |
| Contribute 25 Forge Points to Great Buildings or research a technology | |
| 20 | Callback. I received a callback from Greva! She liked my performance after all! We should celebrate this good news with a few spins on the Wheel of Fortune! |
| Finish a 24-hour production 5 times | |
| 21 | Keep It Simple. Greva wants me to be in her variety show, but she suggested that I simplify my performance. I'll need to do a little more research at the casino. |
| Gather 50 goods | Buy goods on the market |
| Spend 15 Forge Points | |
| 22 | Drill Practice. Hard work always pays off. There is no time to waste at the casino. The troops need to practice for their big performance in Greva's variety show. |
| Recruit 5 units from your current age or 7 units from the previous age. | |
| 23 | Luck To Be An Architect. Greva has made me Set and costume Designer for the variety show! And also get to perform as a backup dancer. This is fabulous! I shouldn't waste this good luck – I'm going to the casino! |
| Acquire a sector | |
| 24 | Opening Night. My variety show will debut soon and the news of it is attracting even more visitors to my casino. We need more accommodations. Please take care of it for me. |
| Build 3 residential buildings from your age or 4 from the previous age. | Reward: 100 diamonds |
| 25 | Extra Ticket. The show is a success and the casino has never been more profitable! But there's always work to be done. Help me out a little more and I'll give you additional tickets. |
| Finish a 24 hour production 4 times | |
| 26 | Extra Ticket. The show is a success and the casino has never been more profitable! But there's always work to be done. Help me out a little more and I'll give you additional tickets. |
| Finish a 24 hour production 5 times | |
| 27 | Extra Ticket. The show is a success and the casino has never been more profitable! But there's always work to be done. Help me out a little more and I'll give you additional tickets. |
| Finish each of the production options twice | |
| 28 | Extra Ticket. The show is a success and the casino has never been more profitable! But there's always work to be done. Help me out a little more and I'll give you additional tickets. |
| Finish a 24 hour production 6 times | |
| | Ticket to Success! Another successful Summer Casino. I have no more work to do and no more tickets to share. At least not for this year. Thanks! |